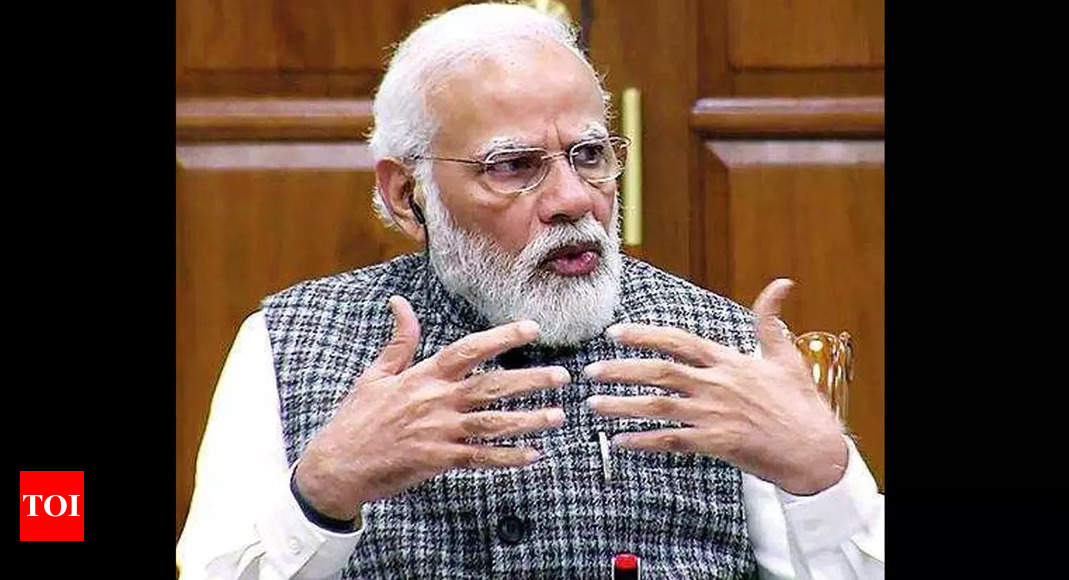 PM Modi UP Itinerary: 4 trips in the next 10 days | Lucknow News
LUCKNOW: Outlining BJP's development push and concern for women and farmers as the UP elections approach, Prime Minister Narendra Modi is set to make four more trips to the state over the next 10 days. The model code of conduct for assembly polls is expected to come into effect with next month's notification.
Modi will be in Shahjahanpur on Saturday to lay the foundation stone for the ambitious Ganga highway, 594 km long, the longest in the country, connecting Meerut to Prayagraj. Offered at a cost of 36,230 crore rupees, the highway is expected to be completed by 2025.
This will be followed by the Prime Minister's visit to Prayagraj on December 21 to speak to female employees across the state. The event is planned at a time when discussions on raising the salaries of Accredited
Social
Health Activists (ASHAs), Auxiliary Nurse Midwives (ANMs) and Anganwadi workers who have played a central role in vaccination and Covid-19 treatment are gaining momentum.
Sakhis Bank, hired by the Rural Development Department to provide banking services, especially in rural areas, at the time of the pandemic, is also expected to be invited. Sources said the prime minister is likely to boost the morale of female employees for their services, in what is seen as a large and well-calibrated women's awareness movement to counter Congress which has insisted on consolidating women to confront the BJP in state polls.
Modi will be in his constituency of Varanasi on December 23 to host a seminar with farmers and agronomists on his vision for the agricultural sector. The prime minister's interface with the farming community and experts comes days after his government overturned the three contentious farm laws that were at the center of a violent protest by farmers.
The Prime Minister will travel to Kanpur on December 28 to inaugurate the first stage of the 9 km long Kanpur subway rail project and attend the annual IIT Kanpur convocation. CM Yogi had launched the Metro train test last month and the section will begin commercial operations shortly after its inauguration by the PM. This will be UP's fourth metro project after those in Noida, Ghaziabad and Lucknow.
The prime minister has already visited UP six times in the past month – to Gorakhpur, Sultanpur, Varanasi, Mahoba, Jhansi, Noida and Balrampur – to unveil plans. He also visited Lucknow for the DGP conference last month.