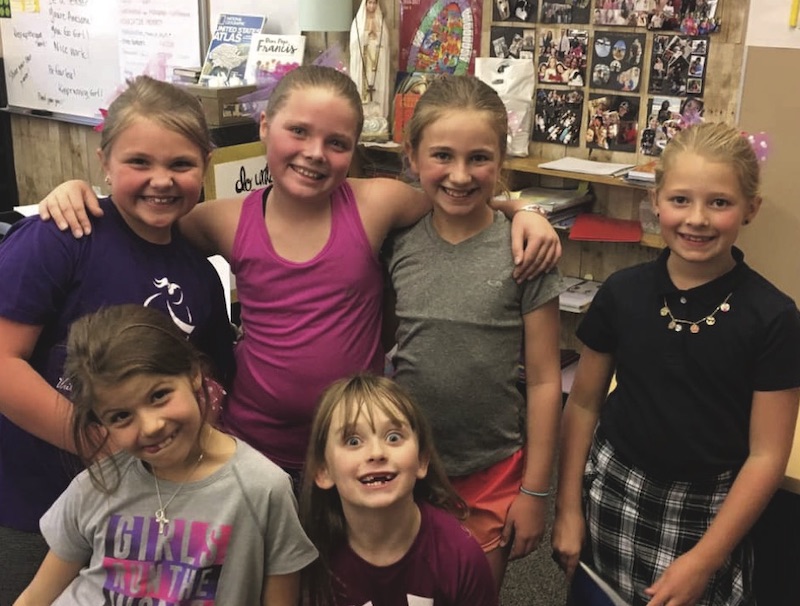 Spotlight on associations: Girls on the Run (sponsored)
Courtesy: Girls on the run
Girls on the Run's mission is to inspire girls to be happy, healthy and confident using a fun, experience-based program that creatively incorporates running. Girls on the Run's goal is to help girls develop the skills and confidence to avoid conforming to a set of social norms for girls / women who are often inaccessible and dangerous to their health and well-being. -to be.

Girls on the Run-Sierras (GOTR-S) serves Reno, Sparks, Sun Valley, Incline Village, Truckee, Kings Beach, Tahoe City, and South Lake Tahoe. GOTR-S is currently in partnership with 33 schools in Washoe County; 36% of these are Title 1 schools (Title I schools are schools with large concentrations of low-income students. These schools receive additional federal funds designed to reduce the educational achievement gap created when students live in poverty).
GOTR is designed for girls ages 8-13, as children this age are receptive to influences from adults, but begin to feel peer pressure. These formative years are a great time to tackle issues and develop healthy social and emotional skills. The emphasis is on independent thinking, healthy choices, positive group dynamics, and problem solving.

The program emphasizes peer support and doing your best, and rejects the exercise of power over others. GOTR-S believes that all girls are at risk of succumbing to negative peer pressure, regardless of race, class, family structure or athletic ability. While all girls benefit from the GOTR-S program, those with fewer opportunities to participate in physical activity and enrichment programs may benefit the most. As such, we are committed to never turning a girl away due to her family's financial situation and providing financial assistance to eligible families.
GOTR-S offers two programs: Girls on the Run, for students in Grades 3 through 5 and Heart & Sole, for students in Grades 6 through 8. All GOTR-S programs are physical activity-based positive youth development programs that teach girls life skills while training physically for a 5K running event. While each lesson includes physical training, GOTR-S is more than a running program.

Girls on the Run teaches life skills and physical skills simultaneously. Life skills are defined as social, psychological and physical skills for successfully navigating life experiences. Trained, supportive volunteer coaches serve as positive adult female role models and implement the program which teaches girls the "5c + 1": caring, connection, character, skill, confidence and contribution. The acquisition of these life skills translates into the promotion of physical, mental and social health outcomes and the prevention of unhealthy / risky behaviors.
Our 30 hour program for elementary school girls meets after school twice a week. The program encourages positive social, emotional and physical development. The first lessons offer girls the opportunity to examine their own core values, learn about their individual strengths while setting personal goals, and explore the importance of being in good physical and emotional health.

The following lessons provide opportunities to explore teamwork and leadership skills, including active listening, assertiveness, conflict resolution, and decision-making skills. The final lessons offer opportunities to explore their responsibility to the community, analyze cultural messages in the media and recognize the power they have to positively change the world using a community impact project. Physical activity is built into the program to inspire an appreciation for fitness and develop healthy habits.

Heart & Sole is a program for middle school girls. The program is designed with themes that girls can relate to at this age and helps develop life skills, especially those needed to meet the challenges of adolescence. Heart & Sole is accessible to all girls, regardless of their athletic ability or level of fitness. Participants are divided into "teams" which allows them to build relationships with their coaches and peers.

The program teaches team building, building a support system, setting boundaries, bonding, goal setting, problem solving, emotional regulation, self-care, overcoming obstacles and making decisions. Girls participate in activities related to mind, body, heart, brain and social skills. After each session, the girls use a journal to record goals, efforts and to reflect on the topics discussed that day. Physical activity remains a central element and includes more rigorous strength and conditioning circuits tailored to this age group.

At the end of each program, the girls participate in a 5K Girls on the Run. This festive, non-competitive event is the culminating experience of the study program. Completing 5K gives girls a tangible understanding of the confidence that comes with accomplishment as well as a framework for setting and achieving life goals. Crossing the finish line is a defining moment when the girls realize that even the impossible is possible.

As a small, non-profit organization, Girls on the Run-Sierras relies on the energy and dedication of volunteers to fulfill its mission. In 2019, over 350 community members volunteered over 7,425 hours to help with programming, events and fundraising.


This article has been provided by Girls on the Course-Sierras. Bank of Plumas sponsor this content.