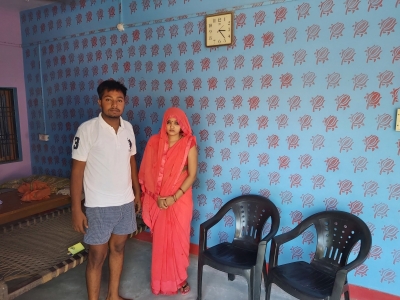 UP village's decrepit health center puts infants at risk
Sultanpur, October 25 (/ 101Reporters) Shankar Ram and Manisha Singh, a married couple from Jarai Kalan village, were delighted with the birth of their baby boy on September 5. As there were no adequate medical facilities in or near their village, the couple stayed with their grandmother in Maya Bazar, Faizabad, until the delivery. The baby was born in a private hospital there, and after being discharged, the family returned to the village.
However, their happiness was short-lived when the baby suddenly developed a fever a few hours after they returned. The new parents ran from hospital to hospital for treatment, but their frantic efforts ended in tragedy when their just two-day-old baby died at Faizabad District Hospital, around 50 years old. kilometers from their village. "The roads are so bad that it takes almost two and a half hours to get there from the village," Ram said.
A heartbreaking ordeal
"We first called the doctor at the hospital where our baby was born. He suggested that we consult a specialist in children. Ram questioned.
Recalling the ordeal, he said: "I hired a Bolero car and first visited the Haliyapur Primary Health Center (PHC). They don't have (good) facilities. We then went to the private hospital where my baby was born. But it was late at night, so they turned us away due to the unavailability of the doctors. We then rushed to Faizabad district hospital. There, after an hour and a half, my child was pronounced dead. The reason for his death is not yet clear, but we have lost our first and only child. "
Haliyapur PHC is approximately 3.5 km from the village.
Ram believes his child could have been saved if there had been a functioning health center in the village.
"A sub-health center is available in the village, but it has been in very poor condition for years. Doctors don't work here because of the dilapidated building. I could have saved my child if the health center had been equipped with the necessary facilities. It was just a high temperature that could have been treated with immediate medical attention, "Ram said, mourning the loss of his child.
A health sub-center or sub-center interfaces with the community at the grassroots level, providing all primary health care services for up to 5,000 people. Staffed with at least one auxiliary nurse-midwife (ANM) or health worker, the sub-centers are expected to have maternal and child health services and nurses trained in childbirth and child care. .
No more stories of misery
Ram and his wife are not the only couple who have lost their newborn baby due to the unavailability of medical services in the village. Raja Singh, who takes care of all the responsibilities of the Pradhan village, said the sub-center has been out of operation for over 15 years now. "The village has lost around 150 newborns, including babies who died in utero due to the health center shutdown," Singh told 101Reporters.
Phul Kali (55), from nearby Pure Basu village (under Jarai Kalan gram panchayat), lost her daughter's unborn child two years ago due to the lack of a medical center in the town. Before they could reach any hospital, she began labor and the baby's head slipped, causing a stillbirth.
"The closest hospital we have is Haliyapur PHC. But to get there, we need a vehicle because there is no public transport in the village. We survive on irregular wages doing manual labor. How can we afford a vehicle? If they are far away, they take a long time. We kind of managed a vehicle for my daughter, but when we were on our way to PHC we lost the baby, "Phul told 101Reporters. She claimed they had to spend lakhs on treatment after the baby died in her daughter's womb.
Phul decried the situation, saying, "If the village health center was functioning, I would now play with my grandson. This medical center must be opened as soon as possible, otherwise we, the poor, will continue to lose children. . "
Another couple from the village, Anand and Pooja Tiwari, also lost their newborn baby on June 3 of this year. "We were happy to see that our baby was healthy. We were able to pay the Rs 12,000 bill; we opted for a private hospital because we wanted our baby to be healthy and alive," Tiwari said. , who works as a driver and earns around Rs 6,000 per month.
However, their baby developed breathing problems. "In just half an hour, we lost our child. We didn't have time to see doctors because the hospitals are far away," Tiwari said. "We would have obtained immediate medical attention if the village had had a health facility. The lack of health centers has been causing us enormous problems for years," he added, saying he had tried to seek help from the local Accredited Social Health Activist (ASHA) agent. help her child, but to no avail.
"We have been asking for pradhans for years, but they say there is no budget to fix the sub-center. No one sees or understands our plight," said Jogi Ram, a resident.
Image of official apathy
The sub-center of the village is so dilapidated that its doors and windows are smashed and the walls can fall at any time. "Due to the condition of the building, the doctors stationed here do not visit the hospital at all," said Raja Singh. He added that five villages fall under the Jarai Kalan Gram Panchayat and are within five kilometers of the health center.
"About 10,000 to 12,000 villagers would benefit from the sub-center. It should be repaired and functional as soon as possible," added Raja Singh.
Rekha Maurya, the ANM stationed at the sub-center, has confirmed that it cannot function without proper refurbishment. "The building is so dilapidated that we cannot risk our lives sitting there. Despite the pitiful condition of the building, the government has not provided any facilities here," Rekha said. She added: "I have been asking the authorities for months, but they only promised us that it would soon be restored and opened to the villagers."
With a single sub-center to meet the medical and emergency needs of five villages, it has become imperative for the authorities concerned to prioritize the complete renovation and installation of a fully functional health center. However, the government continues to pass the buck at the cost of more infant deaths.
Sultanpur's Chief Medical Officer (CMO) said he had already sent estimates for the sub-center restoration work on May 25, 2021 to the government. "We have 12 to 15 secondary centers in the district which are in poor condition among 115 centers. I have sent the estimates to the state government for the repair work on all the dilapidated centers, but I have yet to hear a response on this, "the CMO told 101Reporters.
(The author is a Mumbai-based freelance journalist and a member of 101Reporters.com, a pan-Indian network of local journalists)
Disclaimer: This article was posted automatically from an agency feed without any text changes and has not been reviewed by an editor
Open in app