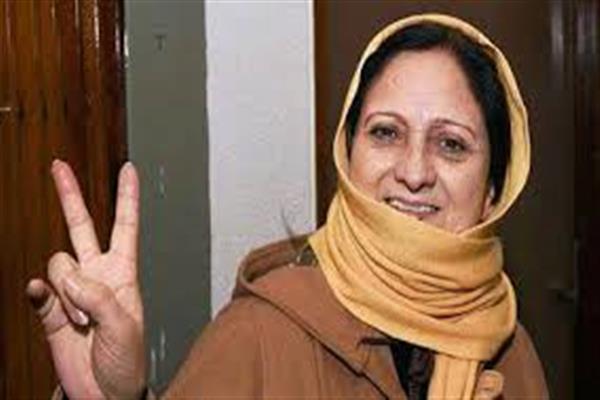 Women's empowerment confined to newspapers: Shameema Firdous
Srinagar, Jan 31: (KNS) The Jammu and Kashmir National Conference on Monday said the incumbent government's gender-blind policies have made J&K women and girls more vulnerable than ever.
So said the chairwoman of the female wing of the Party, Shameema Firdous, during a meeting of female officials here at the party headquarters, Nawa-e-Subha, in Srinagar.
"All these years, especially since 2019, we have witnessed a rollback on the economic gains for women of the past decades made by successive CN-led governments. Our mothers and sisters are the particular losers from the systemic and structural cracks in the incumbent administration brought about by the 2019 decisions of the Union government that cost women and girls in the region the institutional support put in place by our left. Today, our mothers and sisters are running from pillar to post to sort out their problems," she said.
"Women and girls have remained largely absent from government policies. At first, the government played a cruel joke on the people with its half-hearted Covid subsistence policy. Second, our mothers and sisters, who worked in the craft sector and others who worked as social health activists, and SWD were not only largely ignored but also tormented. Far from ensuring the well-being of our mothers and sisters, the current government has chosen to deprive them of their livelihood," she added.
She said that NC, in line with its Naya Kashmir manifesto and the centrality of welfarism and protectionism in its policy framework, will continue its fight to reverse the wrongs committed by successive governments since 2015.
Referring to how endless school closures have crippled the education of J&K's children, she called on the outgoing JK administration to review the lockdown strategy. (KNS)