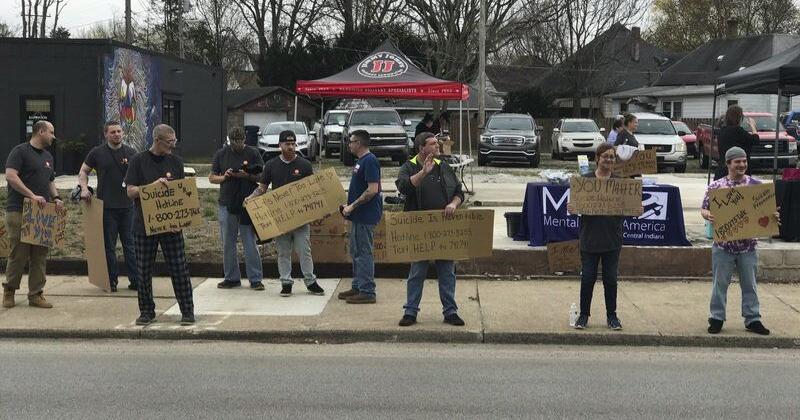 'You Matter': Stand Against Suicide raises awareness and brings hope | Local News
It was a night to turn angst into hope: Mercy's team Stand Against Suicide event on Tuesday night at Grace Community Church in 12 Points aimed to raise awareness of the scourge of mental illness and suicide and to encourage passing motorists.
"In our world today, people's mental and emotional health is under so much stress, and we want people to know that they don't have to be alone, that there are better alternatives to suicide, and that we can provide them," said Mike Pringle, pastor of the church. "We are here to help."
Christina Crist, Executive Director of Team of Mercy, said, "Our Stand Against Suicide events are about bringing the community together, talking about a tough topic, and raising awareness about suicide and spreading the love. Most of our signs have a message of love to attract drivers' attention. Every time we hold our event – ​​this is our fourth – we usually get one to three calls that someone actually had a plan and one of our signs caught their eye.
Most of the signs at the rally included the phone number for the Suicide Hotline (800-273-8255) and recommended those in need text "HELP" to 741741. Some signs read " You Matter", "You are not alone" and "Suicide Sucks". ."
Suicide is the 12th leading cause of death in the United States, causing 130 deaths every day. In 2020, there were over one million estimated suicide attempts. Team of Mercy reported on their Facebook page that there were six suicides in the Wabash Valley last week.
Suicide remains hard to talk about for many because a lingering stigma shrouds the very topic, Crist said. "At Team of Mercy, we think people find it difficult because there's so much unknown about suicide and that's what scares people. When you don't know something, you tend to pretend it doesn't exist because if we don't look at it, then it isn't there. But unfortunately, it helps kill people.
She added: "We need to make conversations about mental health as normal as anything else."
Many participants had lost loved ones to suicide or had even struggled with suicidal thoughts themselves. Pat Moore carried a sign that read "I miss him" in honor of his father, who killed himself with a gun.
"It's something you never recover from," she says. "You wonder why and the questions remain unanswered, but you must find peace. My mom was home when it happened and she was getting ready to cook dinner. He was diagnosed with stage 4 lung cancer and he wasn't himself because they put him on all kinds of drugs. My mother finally agreed and forgave him for what he had done.
Moore found peace for herself by praying and talking to her family members. "I only think about the good things" of her father, she said. "One thing I can't forget is when I got there after I got the phone call, the sound of a helicopter. I still remember that sound, but he had signed a a do-not-resuscitate order, so we had to let him go.
Kristy Kingsbury recently moved to Terre Haute but has already participated in several Team of Mercy events. She lost several friends and family members to suicide.
"Death is one of those things you get used to and start living with every day, but you never get over it," she said. "You miss them everyday."
By participating in Team of Mercy activities, Kingsbury finds solace. "Having these events really helps," she said. "Communicate with other people and just understand that it's OK to not be OK."
Mark Baker, who quickly became a 12 Points mainstay, was there with his wife, Tiffany, and their children. As his 4-year-old daughter rummaged through the available signs, he noted with a chuckle, "This one can't choose a sign – she's changed her mind about 15 times already."
Baker himself is a suicide survivor, having lost his father in 2018 to a self-inflicted gunshot wound.
"It was a shock," he recalls. "We discovered it when we were living in Japan, and we had 48 hours of travel time to try to process it. It was the first time I realized that not everyone who travels through an airport is traveling for business. or for fun, some people actually have the worst day of their life and that's us at that time.
"I had 20 hours of flight time to sit down and reflect on what I was going through," he continued. "Hitting the ground in Terre Haute, I was slapped when you see the reality of it."
He added: "Luckily we have an organization here like Team of Mercy that has the resources and can get you through something like this."
Leah Myers represented Mental Health America of West Central Indiana, where she is director of education. Mental illness runs in her family, she says: "So it's important to me. I want to make sure anyone who needs help can get it.
Myers said this event was just another invaluable service provided by Team of Mercy (the organization also offers bereavement counseling and biohazard cleanup resources).
"When people are walking by and they see the signs and how much everyone cares, Team of Mercy is helping save lives with this event," she said. "I think we need more of that, just standing in the corner holding a sign saying we care about you – we want you here. These events really make a difference. They really matter.
David Kronke can be reached at 812-231-4232 or [email protected]